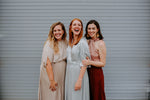 An Honest Look at Wind Blown Jewelry
Oftentimes, when I am making an investment in something, be it a new article of clothing, shoes, or something for my kids or my house, I want to learn all about it. Who exactly is creating it? Where is it sourced from? How does it actually hold up? And how do I take care of it when X, Y, or Z happens? (Because let's face it, it will.) When you purchase something from Wind Blown, we want you to have all of your questions answered… and then some!
Who is Wind Blown?
If you've been around Wind Blown for a few seconds you've probably heard us use words like fun, easy, and long-lasting. We spend a lot of time dreaming up jewelry that fits around these words because we need no hassle jewelry that carries an encouraging message, too!  We're running businesses, working, going to school, running households, raising babies, and everything in between. We use Wind Blown Jewelry in our everyday lives because we not only make it—we love it! We're a small team of dedicated, hard-working ladies that want to make lasting jewelry pieces that transition from any outfit or life season. 

What's your jewelry made out of? 
At Wind Blown, we use a few different types of metals including gold-filled, gold-plated, and sterling silver. 



Gold-Filled

Gold-filled jewelry is made by taking layers of solid 14k gold and pressure bonding it to a core of jeweler's brass. This creates a thick layer of gold making it extremely durable and high quality. Gold-filled jewelry has just about the same durability as solid gold with a huge step down in terms of price. Here's a funny (and yummy!) way to think about it—when you add some thick buttercream icing on your homemade chocolate cake (thick buttercream = layer of gold over the brass) you know longer see the chocolate cake —only the buttercream icing surrounding it. 

Gold-Plated

Gold-plated is a little trickier to explain because it can vary so much from jeweler to jeweler. Essentially, gold plating is the process of taking a base metal (often brass or copper) and dipping them into liquid gold. It coats the entire piece, giving it a beautiful even layer. At Wind Blown, we create the thickest gold plating (1 micron or MORE, to be exact!!) possible to ensure that the plating won't rub off over time. The Federal Trade Commission classifies something as gold-plated if it's been coated by a .5 micron of gold, so we DOUBLED it. 

Here's another fun way to think about gold plating. You know the glaze on a Krispy Kreme doughnut? It's a quick dip in some yummy glaze. Now, think of the icing inside a Boston cream doughnut. It's a lot thicker, right? We're like the Boston creme of gold-plated jewelry. You can't go wrong. 

How does it hold up?

This goes back to part of our whole goal behind creating our jewelry. We make jewelry that is meant to hold up to WHATEVER your day holds. You can wear your Wind Blown necklaces in the shower and bathe your kids with our rings on. Our earrings are perfect for beach trips and gym sessions. Our  pieces are meant to endure sweat, water, sunscreen lotion, and dirty dishes, so don't be afraid to put your jewelry to good use! In fact, we really believe our jewelry can hold up, so that's why all of our jewelry comes with a year-long replacement guarantee. If for any reason you have issues with any of your Wind Blown pieces, email us at customerservice@windblownjewelry.com, and we'll get it fixed for you ASAP!

What about sourcing?

We strongly believe in buying from locally-sourced, ethical businesses for our own households. We do what we can to make sure we live this out, and with our jewelry sourcing, it's no different. We want EVERYONE in the process to be treated fairly with honor, and we don't want to fuel exploitation—that goes all the way from sourcing the materials, creating the jewelry, and shipping it out to all you lovely people. All of our raw materials and our plating is sourced from a sweet company in Albuquerque, New Mexico. From there, we create everything in our little town of Wake Forest, North Carolina, with our awesome Wind Blown team.